How to adopt a cat from SPCA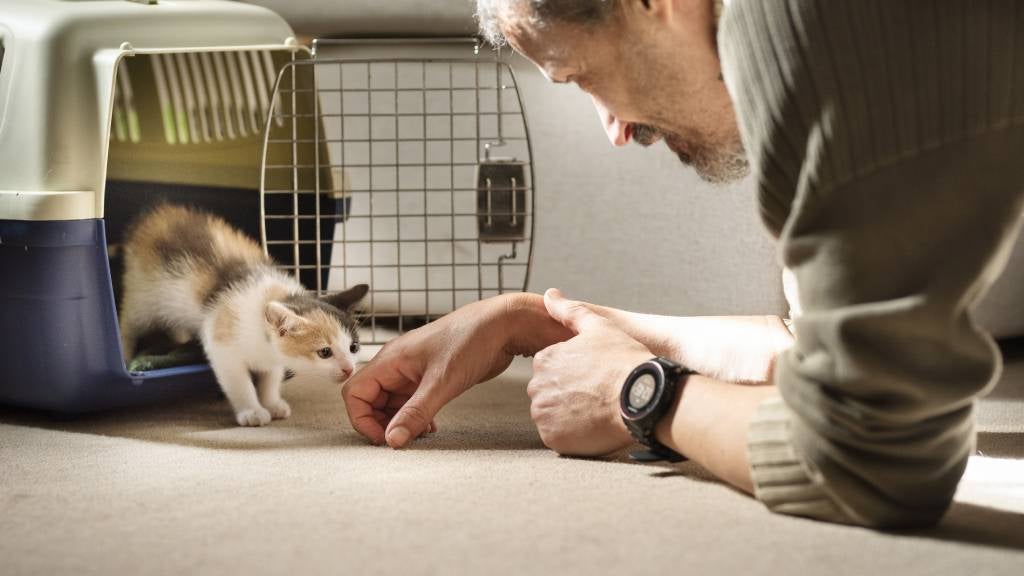 Adopting a cat or kitten can be a wonderful and exciting time, but there are many things to think about before you take your new pet home. Age, personality, and what the adoption process involves are just some of the things you will need to consider.
Cats are often thought of as independent and capable of entertaining themselves, which can make them ideal for either a house or apartment. Plus, if you're not a fan of exercise, they don't need regular walking.
On the other hand, be prepared for constant shedding and the occasional furball, and to keep them entertained with toys and cat furniture.
Educate yourself about general feline care. It's also important to research veterinarians, nutritional requirements of your cat's different life stages, pet-sitting services (if necessary) and anything else that could affect your cat's life.
While cats make excellent companions, it's important to remember that they still require lots of care from their humans. Before you adopt, please ensure that you've thought carefully about the responsibility of having a fur baby.
Choosing your new cat or kitten
When it comes to selecting your new moggy, ask yourself what you're looking for and how they might fit into your household.
Some cats are attention-seeking drama queens, while others may be shy or prefer to quietly snooze on laps. Older cats can make loving companions for older adults, while a kitten might be better suited for a young family who can keep up with its playful and inquisitive energy. If you are thinking of adopting a kitten, adopting two who are siblings or are already known to get along will help to keep them entertained and is a great way to ensure they have companionship.
Do your research and consider which type of cat might be the purr-fect fit for you and your lifestyle.
For all the information you need to know before bringing a new four-legged friend into your home, check out the SPCA website.
Once you know what type of cat you're after, the SPCA website is a great place to start your search. You can search for adoptable animals in your area, read about their specific requirements and find advice to help you settle them into their new forever home. If you've got the time and the love, SPCA has a pet to suit your family.
How to adopt
Matching you with the right cat or kittens is important.
If you're interested in adopting an animal from SPCA, you can apply online or phone your local centre. SPCA will schedule an appointment to come into the centre and meet your potential furry family member in person.
SPCA expert animal staff will talk with you to help understand your specific lifestyle and needs, talk through any special requirements the animal you are interested in might have and answer your questions.
Once you've chosen your new feline friend, an adoption form will need to be signed and the adoption fee paid.
Your new companion is all ready to go!
SPCA ensure all animals are ready for their new home before their adoption.
The adoption fees will cover the costs associated with your cat or kittens and help save other animals.
This means your cat or kittens will go home being:
Vet checked and healthy
Behaviour assessed
Desexed
Vaccinated
Wormed and defleaed
Microchipped and registered with NZCAR
Above all, SPCA's interest is in the welfare of the cat and making sure he or she finds the perfect forever home.
Caring for your new feline
Bringing a new cat or kittens home is a wonderful experience. Take time to help your new family member feel safe and comfortable in their new surroundings. You will also need to begin the process of educating your cat, and making sure you provide all its feeding, health, training and exercise needs.
While cats can seem quite self-sufficient, it's important to remember that they still require a lot of care and affection. We recommend keeping your cats safe and happy at home but, at a minimum, cats should be kept indoors from dusk to dawn – this helps reduce the risk of accidents and fights, and provides some relief to the local wildlife.
And while you're looking into finding your furry companion and doing your research, make sure you look into SPCA Pet Insurance to keep your new pet protected. Say Yes to lifetime cover for injuries and illnesses.
12 Dec 2021